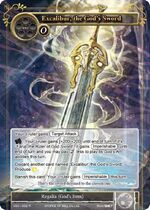 Regalia is a card type.
They commonly give additional abilities to your J-Rulers.
You can play a regalia card only during your main phase, while the chase is empty (like a resonator card).
List of Regalia
Edit
Artemis, the God's Bow
Blade of the Seven Lands, Excalibur X
Change the World, Orb of Illusion
Deathscythe, the Life Reaper
Deep Blue, the Phantom Board
Excalibur, the God's Sword
Excalibur, the Spirit God's Sword
Gleipnir, the Red Binding of Fate
Heavenly Instrument, Hydromonica
Horn of Sacred Beasts
Illusory Demonic Globe, Attoractia
Illusory Demonic Globe, The Earth
Interdimensional Vessel, Apollo
Laevateinn, the Demon Sword
Marybell, the Steel Doll
Orb of Disaster, Ifrit Glass
Schrödinger, the Fallen Black Cat
Ad blocker interference detected!
Wikia is a free-to-use site that makes money from advertising. We have a modified experience for viewers using ad blockers

Wikia is not accessible if you've made further modifications. Remove the custom ad blocker rule(s) and the page will load as expected.